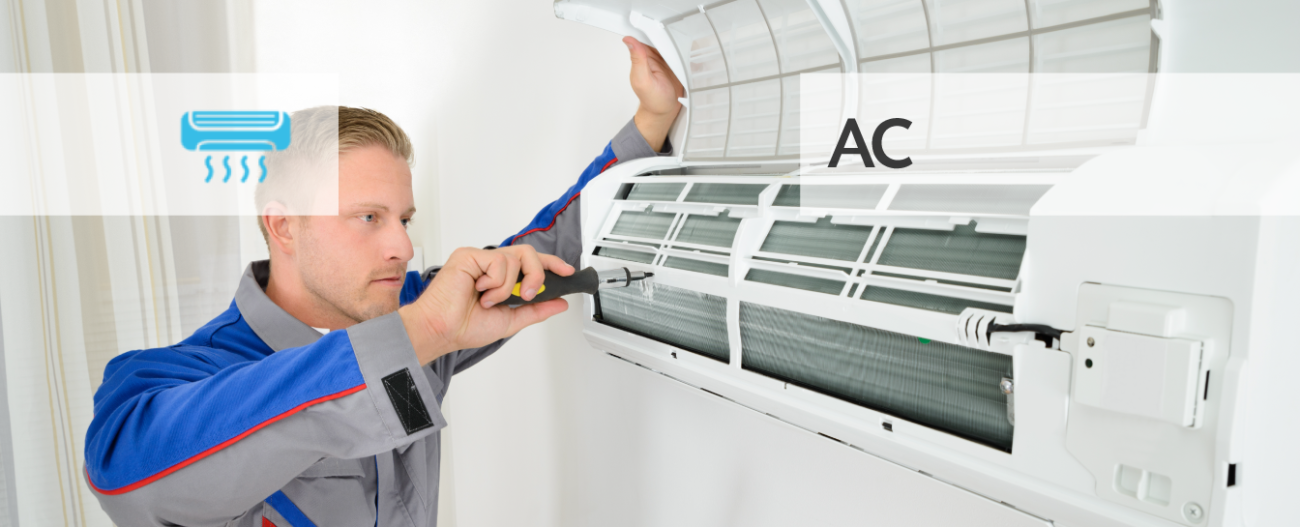 AC cooling repair in Dubai and UAE
AC cooling issues can potentially disrupt your daily routine, causing unecessary inconvenience especially in the extreme summer weather of the UAE.
The best solution to your problem is to simply book an AC cooling repair service in Dubai and UAE with HomeGenie. All you need to do is book online or use our iOS and android mobile apps and an expert AC technician will be instantly assigned to reach your doorstep on the agreed day and time. Our technicians are professionally trained to resolve common or complex issues related to your AC cooling issue like clogged air filter, dirty coils, insufficient coolant or gas, faulty compressor, faulty thermostat, defective parts, high atmospheric temperature, undersized AC or capacitor issue, across most well-known brands and models. The advantage of getting a refrigerator repair service from HomeGenie is that you can have your AC repaired, with complete peace of mind while we at HomeGenie work hard to ensure you get the best quality, reliably and at an affordable price.
Services
FAQs
Common issues with AC cooling in Dubai and UAE are clogged air filter, dirty coils, insufficient coolant or gas, capcitor not working, refrigerant gas leakage, faulty compressor, faulty thermostat, defective parts, high outside temperature, undersized AC or capacitor issue.
We repair most well-known brands of AC sold and used in Dubai and UAE. This includes Samsung, LG, Haier, Nikki, Daewoo, Super General, Hitachi, Bosch, Siemens and more.
At HomeGenie, we only use genuine spare parts available from the original manufacturer or official distributor only. The warranty on these spare parts provided by the manufacturer may vary and are extended to the customer as is. Spare parts for latest brands are usually available within the same day but with lesser known brands or older models, they are difficult to find and might require time.
To determine the number of units installed at your home, count the number of AC controllers installed on the walls of your home and that will be the number of AC units installed.
1. Ensure the internal AC filters are cleaned or changed regularly.
2. The indoor vents are kept clean and that they cover the require space and dont' necessarily focus on a particular area.
3. The AC cooling is not set to too low all the time as it put uncessary pressure on the compressor.
4.The external unit of the AC should be kept well ventilated and clean so periodic check and cleaning is needed.
5. THe electrical connections on the external unit should be check periodically to avoid sudden breakdowns.
We strongly recommend a preventive AC service atleast once a quarter.
HomeGenie AC Services in Dubai and UAE
HomeGenie is the first on-demand one-stop Home Maintenance services provider in the UAE. We work with our carefully vetted delivery partners to provide a simple, reliable and affordable solutions to our customers. Our objective is to gain the trust of our customers by providing a superior customer service experience consistently every single day.
An AC service booked through HomeGenie usually starts with a booking via web or the iOS and android apps (available free of cost). Once the booking is made, an AC technician and supervisor are assigned to the job to perform the work at the agreed date, time and location. Upon arriving at the site, the AC technician will review the requirements with the customer and give a rough estimate on the hours it will take to complete work, if the job can be done instantly, and without the need of additional parts or items. In case of parts or item requirements, the AC technician will advise the customer if any spare parts are need to be purchased before work can be initiated. The AC technician can get the parts or items from the market, upon payment of and advance, or schedule another visit after the customer arranges the parts. Once the parts are secured, the AC technician will agree a new date and time to complete work. The customer once satisfied by the work completed will approve the payment which results in an invoice after the payment is received. Customers are further urged to rate the AC technician for us to continue improving our customer experience. In case of any complaints or concerns.
At HomeGenie, we are focused on providing a world-class AC services experience to our customer for which we provide, but not limited to the following advantages:
Professional service
15 day workmanship warranty,
Insurance covered
Emergency service (24×7),
Competitive hourly rates
Due to the above advantages, we take pride as the most reliable company for all AC services
We provide other common handyman-related services including – new installation, replacement, dismantling, removal or movement of articles.These services can be provided as standard or emergency services.
Related Blogs